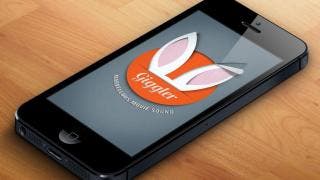 Hollywood-like sounds for iPhone videos:
Giggler closes App Store gap
Apple´s App Store offers a wide range of photo and video apps. But anyone who has ever tried to score with the perfect video has so far not been able to do more than to apply a mere filter function. While that is of course an optical improvement to the video, it is actually the sound that defines the atmosphere of a movie. With Giggler, a new app has now been included in the App Store. Invented by the music professionals of Donnerblech GmbH, it is the first video sound app of its kind.
Cologne, November 2013. We all know and love them – those typical sounds in TV sitcom classics: hearty laughter, compassionate "ohhs" and thunderous applause. They are just as much a part of it as the firework of gags.