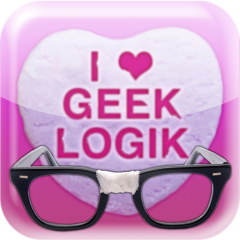 Los Angeles, California - ThinkFAST, Inc. has released "Geek Logik Valentines Day" for iPhone, iPad and iPod touch. Should I Propose?? Should you get married? Will our marriage last? Which Valentine's date should you choose? How much should you spend on a Valentine's gift? Do you have a snowball's chance with her? These questions have vexed the love-struck since Cupid was naught but a twinkle in Aphrodite's eye!
Now there are answers! And you can share them with your friends on Twitter and Facebook!
Announcing, "Geek Logik Valentines Day" - Open a Can of Mathematical Certainty on All Your Valentine's Questions! There's even a "Panic Button" linking the love-struck to some cool Valentines gift buying buttons. Caution: Don't use at the last minute!