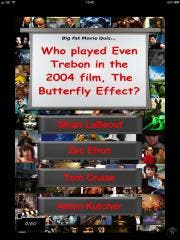 Think you know your films? Think again!
Big Fat Movie Quiz 1.7 (BFMQ) is the first iPhone movie quiz app which comes in 5 parts, to stop you getting bored of the same kind of questions.
Part 1: Who played?
Part 2: Say what you see?
Part 3: Which Film?
Part 4: Who am I?
Part 5: Sound Play.
Because the sound play question have been such a hit, we have inclued ( for free) a 50 questin sound play quiz. Also with the 1.7 update BFMQ has had a massive face-lift and the graphics are now in stunning HD.
There is also a link to IMDb to help every time you get a question wrong, if you need the help that is!
Download for free or for more information visit www.thehermonapps.com/big-fat-movie-quiz