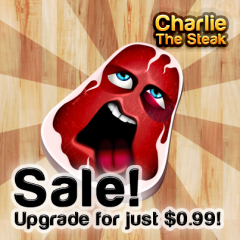 DynamicDust just announced price drop for their most successful game
"Charlie, The Steak". Unlock the fullstress-breaker game with more 100,000 downloads now for only $0.99.
PRAGUE – SEPTEMBER 2013 – DynamicDust, Game developer studio, situated in Prague, Czech Republic started making iOS games in 2011. After few smaller projects, in June 2013 the studio released their biggest hit "Charlie, The Steak". With more than 100,000 downloads Charlie became popular, and in these days it has more than 350,000 sessions and more than 2,500,000 animations played (in game it's call "hurts"). And now DynamicDust just released an update and decreased his price!
► ► ►Unlock the full game now for only $0.99!