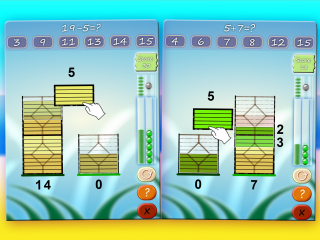 After more than two years of development, Pikido Edutainment proudly announces the AppStore release of KidsCalculate - coming Saturday, October 4th !
KidsCalculate is aimed at comprehension of mental calculation methods. It is for children of ages 4 till 9. It treats comparison, counting, addition, subtraction, multiplication tables and learning numbers in 9 foreign languages.
This video offers a glance in 30 seconds.
The KidsCalculate system may be the best in the world. A detailed comparison with other calculation visualisation systems (like the Abacus, Bead String, Number Line and Montessori Stacking System) can be found at www.kidscalculate.com