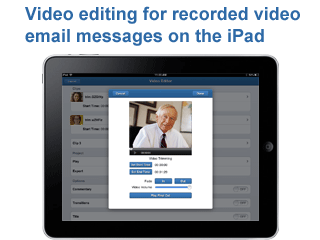 Netbriefings' Proclaim Messenger video email app newly updated on iTunes
St. Paul, MN (PR Buzz) April 4, 2013 – Netbriefings, a full service web technology provider specializing in engaging video messaging and managed service webcasting, announces version 3.3 of its Proclaim Messenger video email application for the iPad. This release gives the user video editing capability for recorded messages and enhanced messaging for live events.
The Proclaim Messenger video email app now allows users to edit up to three video clips and create a new message. Users can add audio commentary and titling as well as add transitions between each of the video clips, including fading in and out.