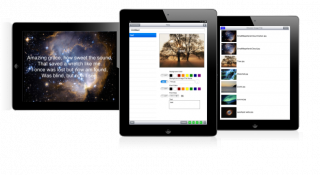 Simple Presentations ia great for one-on-one presentations.
It's easy to create the presentation with combinations of text, images and video. And even easier to present them by just swiping left and right on your iPad (or iPhone, iPod touch). You can also use an iPhone to HDMI cable to display the presentation on a digital projector or TV.
Presentations can also be set to play automatically. And the whole presentation has a default color scheme, font, background etc... Changing these in one place changes them for the whole presentation. Or they can be overridden for individual slides.
Simple Presentation is great for a one on one sales presentation ,and also a great teaching tool.