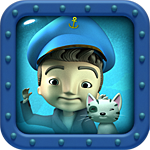 February 25, 2012
Scott's Submarine, an interactive book app for kids for iPad and iPhone, is 50% off until midnight today ($1.99).
The app is currently #1 in several countries in the Appstore Books category and even reached #1 and #3 position overall in Spain and France! Not bad for a children's book!
Get it before it's back to its original price!
http://itunes.com/apps/scottssubmarine (designed both for iPad and iPhone)
The app is also available on the Android Market.