By Cindy Downes on Wed, 05/27/2009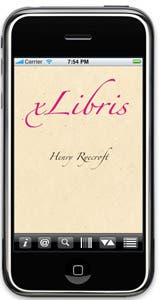 I love books. The problem is I forget which books I have. Consequently, on too many occasions, I've bought the same book more than once. But not any more!
Now, I have xLibris by Option-X (v 1.2.1) installed on my iPhone. xLibris is a full-featured book database that sorts my books by title or author. I can easily search my book database while at the bookstore, and no more duplicates!