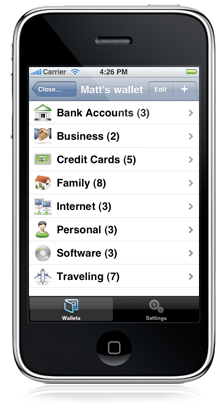 "May 5, 2009 - SBSH Mobile Software announced today the availability of its best selling wallet application SafeWallet for iPhone and iPod Touch devices! SafeWallet is a secure storage application designed to help you manage all your private information in one secure solution! Use SafeWallet to store all kind of information, such as: credit cards information, online passwords, bank account info, registration codes, ATM PINs, emergency contacts and more!"
Stay tuned, because we will probably soon be announcing a small contest with free giveaways on this product. We are working on the details, but likely 3 winners will be selected from people who comment here on iPhone data security. Look for details in a coming post...
SafeWallet Highlights
Security First - 256-bit AES encryption engine similar to US government standards; encrypted wallets; Auto-Close feature
Cards & Templates - Supplied pre-defined templates for your personal needs; Add/edit/remove fields from existing cards; Icons bank with over 250 professionally designed icons
Advanced Utilities - Use Favorites folder to access your most used cards; Simple and user friendly interface; Passwords copy to clipboard
Click here to read the release note from our development team and find out more about the new SBSH SafeWallet for iPhone and iPod Touch.
Pricing and Availability
SBSH SafeWallet for iPhone/iPod costs $5.99
Click here to register SafeWallet for iPhone and iPod Touch via iTunes AppStore