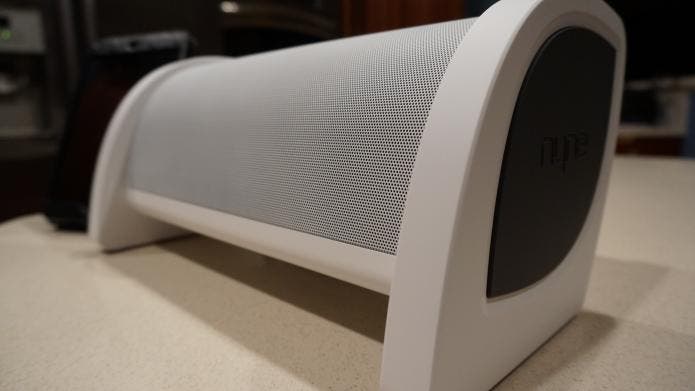 The wireless speaker market is completely saturated, so its hard to know where to start when looking for a quality, yet affordable option that is rises above the sea of cheap Bluetooth speakers. I have listened to a metric ton of them, and the gold standard for streaming and quality to me is Sonos, but their products are not cheap, and do not include a simpler Bluetooth option. Nyne has a uniquely shaped line of Bluetooth 4.0 speakerphone devices that give the solid sound quality that approaches the Sonos level, but without the price (and WiFi fuss.)
Nyne has several affordable wireless speakers to choose from but they sent me the white and grey BASS which is a cinder-block-sized, teardrop-shaped speaker. Actually, it's a bit smaller than a cinder block, and certainly much lighter at around seven pounds. The specs are nothing to sneer at with a 4400 mAh rechargeable battery, and the ability to pump out 35 watts RMS through two active drivers and a subwoofer. The portable BASS is fine for the patio or the entertainment room.
The contents in the box include a bizarre charging power supply (with several international adapters); a really nice 3.5mm male-male audio cable; and a product booklet as thick as a mafia capo's pocket roll. It took me longer to get the strange interlocking charger pieces together than to get the unit to play audio, but once I had the BASS blasting out tunes I did not need the guide. Basically, turn it on, pair it to your Bluetooth-enabled device, and start up your favorite audio application. Don't have a Bluetooth device, or want to use the BASS as an add-on speaker for your TV or Blu-Ray player? The kit comes with a fancy 3.5mm cable to connect non-Bluetooth devices through the aux port on the back.
The BASS has a creamy texture that is not unpleasing to the touch. The design is very sturdy. Overlarge buttons along the top provide standard player and speakerphone controls. The back has a small inset with power, aux-in port and an on-off slider switch. Another press control on the top button row makes it easy to get the unit started. An inset handle above the port panel lets you easily grab and carry the BASS from room to room. A USB port gives a charge to your phone as well.
The ample lithium-ion battery purportedly provides 10-hours of play time. Though I did not confirm that, I certainly confirmed several hours of reliable usage. The BASS could benefit from a battery indicator on the front so one might keep tabs on the charge, however. It also doesn't seem to auto-power down in the absence of a connection, which is puzzling for a rechargeable wireless device to not include. NFC communication is a great feature the BASS does include, but it's not currently useful for iPhone users. Android fans can use it to auto-pair a Bluetooth device with the BASS (which may be why it doesn't have auto shutdown). I had to manually re-connect to it at least once.
Once the speaker was paired with my iPad, I tried streaming Slacker, which worked flawlessly. The overall sound quality is clear and rich. I was impressed with the mid and high range performance the most, which is ironic, considering the name. The BASS has decent bass response, but it did not really blow me away. It was heavy at times, but because of the higher range bias, it seemed to wash out somewhat under the barrage or mids and highs. It sounded wonderful supplementing my TV's stereo output using the aux-in jack on the back (as good as any speaker I have). I then paired it to my iPhone, and tried the speakerphone. My end sounded fine, but the person I called said I sounded like I was in a tunnel. Still nothing major to complain about, considering the overall feature set for this 35 watt powerhouse comes in at under 150 dollars.
The Verdict
The BASS is not quite the blaster of low tones I expected given the name, but it doesn't disappoint either. I give this portable wireless speaker a hearty thumbs up for a cool concept shape, quality performance with lot's of features! There are a few rough edges, but the price is worth them.
Pros
Attractive, and great overall sound
Affordable Price
Cons
Tiny charge indicator (on back), and no auto-power down